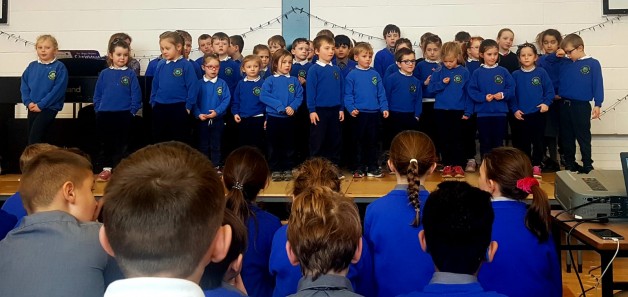 All students and staff gathered in the School Hall for the annual Carol Service at St Mary's on Tuesday. A number of readings were read by students, and these were accompanied by some fabulous singing of carols and recorder recitals under the direction of our Music Generation teacher, Barbra Kelly, and our music teacher, Ms Kenny.
The introductory song was sang by the children from Tiny Tunes.
The 2nd to 4th classes sang the lovely songs 'Listen', 'Simply Having a Wonderful Christmastime' and 'The Pipes of Peace', accompanied by Barbra Kelly on piano.
The songs played on the recorder were 'Jingle Bells', 'We Three Kings' and 'Good King Wenceslas', accompanied by Ms Kenny on piano.
5th and 6th class sang the songs 'Away in a Manger' and 'Bring on the Snow'.
Ms. Muldowney's Class recited the very funny 'Talking Turkeys' poem.
A really celebratory and festive atmosphere was enjoyed by all. Well done to all the children who participated in this joyous occasion.
Wishing everyone a very Happy, Holy and Peaceful Christmas.