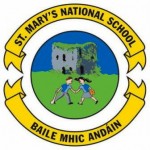 Our state of the art school was 10 years in the planning and became a reality as a result of hard work by parents, teachers and the people of Thomastown. Our school has over 460 pupils and is the result of an amalgamation between Ladywell Boy's school and the Convent of Mercy National School.
Facilities include a state of the art P.E. hall, 2 pitches, 2 basketball courts and a ball wall. Each classroom is equipped with a wide variety of ICT resources to aid teaching.

St Mary's National School is a Catholic Primary School, under the patronage of Bishop Seamus Freeman, Bishop of Ossory.
There are 23 teachers in the school. 18 mainstream, 5 Special Education teachers and an Administrative Principal.
We have 3 special needs assistants (S.N.A's) in the school.
The school is co-educational.
The school depends on grants and teaching resources provided by the Department of Education and Science and it operates within Department regulations.
The school follows the Curricular programmes prescribed by the Department of Education and Science.
Within the context and parameters of Department regulations and programmes, the rights of the Patron as set out in the Education Act, and the funding and resources available, the school supports the principles of
o Inclusiveness, particularly with reference to children with a disability or other special educational needs.
o Equality of access and participation in the school.
o Parental choice in relation to enrolment.
o Respect for the diversity of values, beliefs, cultures, traditions, languages and ways of life in society.
The school day runs from 9.10am to 2.50pm with the Junior and Senior Infant classes finishing at 1.50pm. For the first 2 weeks of the school year the Junior Infants finish their school day at 12.15pm
Procedures: Parents who wish to enroll their children in Junior Infants may do so by contacting the school by phone, and then in person, at any time before the end of February in any year. We hold an Enrolment Week during the month of February every year. The Board usually communicates this message through the Parish Bulletin, by letter through the local playschools and posters displayed locally. Only children who have reached their 4th birthday by September 30th, are eligible to enroll. Acceptance of a child into Junior Infants is at the discretion of the Board in conjunction with the Principal, taking into account the age and level of maturity of the child.