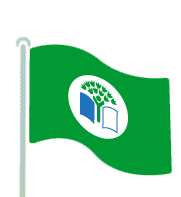 The Green Schools Committee is up and running again.  We're full steam ahead with our eyes on our second Green Flag.
All the children in the school are working really hard on the Energy theme.
We've noticed lots of children turning off their classroom lights when they leave their rooms.
Children are also reminding their teachers to close windows and doors and switch off their laptops at the end of the day.
The Committee have given Appliance Surveys to all the classes in the school.  Thank you so much for filling them in and returning them to us.  We will display the data we've collected on the Green Schools Notice board under the stairs.
Don't forget to have a look at the Notice Board when you're passing it to get some great tips on how to save Energy.
If you have any questions or ideas for the Green Schools Committee please tell a member of the committee in Room 12.
Thank you all for helping us make St. Mary's a Greener Place.