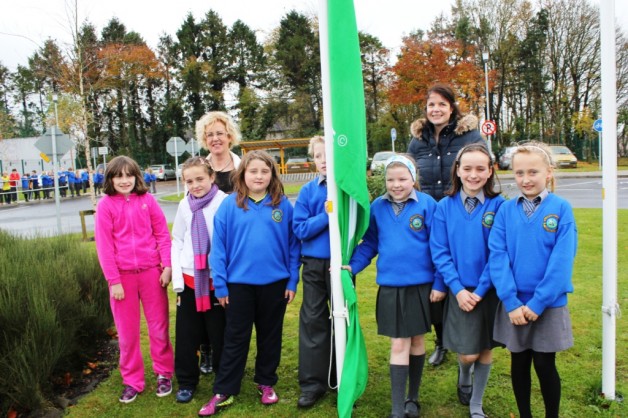 On Friday November 11th, all of our hard work paid off when we raised our first Green Flag here on the grounds of St. Mary's National School. 
The weather was not very kind to us, so the whole school community gathered in the hall for the special occasion. A special mention was made to Ms Hogan and the Green School Committee.  They were praised for their hard work and efforts throughout the year.
Thankfully the rain cleared and we could go outside to officially raise our Green Flag. It was a fantastic occasion. There was a great buzz of excitement in the air. The celebrations continued back in the school with a well-deserved party for all the children.

While the committee works very hard, meeting once a month, planning activities, monitoring progress and keeping the school updated, it is the work of every single pupil on a daily basis which makes us a Green School. From Junior Infants right through to sixth class. So well done everyone!! Keep up the great work and we'll have our second Green Flag before we know it!!